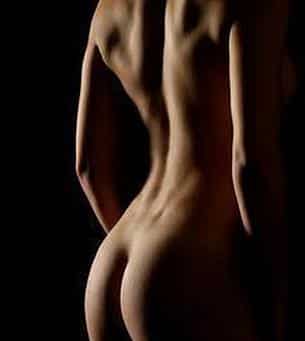 About this procedure
People who undergo extensive weight loss may experience excessive extra skin, which does not retract or respond to exercise or massage therapies. This excessive, drooping, wrinkled skin surrounding the abdomen, thighs, and buttocks, is difficult to hide with clothing, and can be an embarrassment when wearing shorts or swimwear. Many people simply avoid these sorts of clothing and activities altogether.
Aging and weight gain, followed by weight loss, all contribute to excessive hanging folds of skin, which is not only an issue of aesthetics, but also one of health, since the heart is overworked to pump blood to this mass of unnecessary tissue.
Fortunately, the surgical removal of this excess tissue, when safely performed, can provide gratifying relief. This cosmetic surgery is generally referred to as a body lift, a lower body lift, or body contouring.
Generally, body contouring, or the lower body lift, is a combination of plastic surgery procedures, and can include liposuction, abdominoplasty (a tummy tuck), a medial thigh lift, and a lateral buttock and thigh lift. These operations all require careful planning to achieve the desired result.
The lateral buttock/thigh lift requires a scar, placed in the waistband area, where the removal of excess skin and fat occurs. The scar is easily concealed with swimwear or under garments.
The medial thigh lift requires mobilization and excision of the skin and fat at the upper, inner thigh crease. The resulting scar is well hidden within the natural folds of the thigh area. In some cases, excess inner thigh skin requires a vertical incision when the laxity is excessive.
The various plastic surgery procedures involved in a lower body lift, or body contouring procedure, need to be planned appropriately to ensure the best results and protect the patient's health. At Fairbanks Plastic Surgery Center, we make your health and safety our primary concern, while providing you the amazing results you desire.
---
Lower Body Lift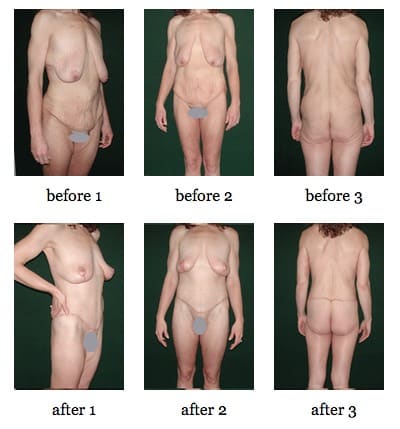 ---
Body Contouring Surgery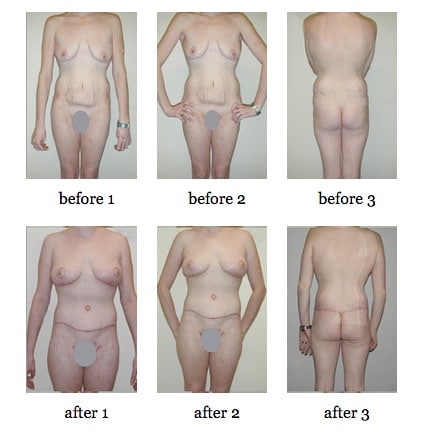 ---
Lower Body Lift Surgery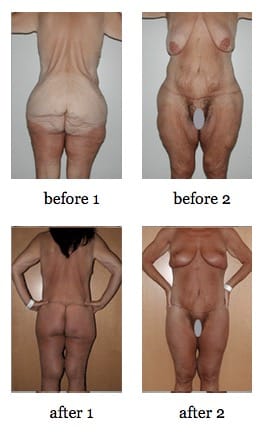 *All before and after photos are real patients of Fairbanks Plastic Surgery. Identifiable images are used with patient permission.
---